As regular readers will know, we recently opened an office in Birmingham, which means that some of the articles on our blog were created with the intention of helping out the Brummie freelance community as best we can.
Last year we looked at hot-desking in London, so this week we've turned out attentions to the pumping heart of the Midlands. The hot-desking options in Brum are increasing day by day, but there are a group of (relatively) old reliables that we think are worth a mention. Here, then, are seven top spots for hot-desking in Birmingham – and, as usual, you can drop us a line via Facebook if you think we've missed anywhere vital.
Innovation Birmingham Campus
A central part of the Birmingham Science Park, Aston, the Innovation Birmingham Campus is the ideal hot-desking spot for freelancers in Brum, not least because it's at the very heart of the city's initiative to support Midlands-based startups.
The joy of working among other entrepreneurially-minded people is that their collective enthusiasm will keep your head up in your more stressful moments, and their myriad skills and talents may prove useful as you take your next steps. You may even find yourself offering your own insights, and it's networking of that kind that will lead to a continually booked-up schedule for you as a freelancer.
Hot-desking at the IBC (or co-working, as they call it) starts from £40 per month for a 'virtual membership', leading up to £199 for full 'pod membership'. For more info, take a look at their hot-desking in Birmingham pages.
Moseley Exchange
Known locally as Birmingham's bohemian quarter, Moseley is a hot-spot for those of a freelancing nature. What we love about the area's first co-working space, however, is their acknowledgement of the fact that the freelance life can be a solitary one.
"Our co-working space is ideal for those who work as independents," they explain, "or perhaps work from home part-time and seek to be part of a friendly and supportive community of co-workers." If our interview last week with Vodafone's Nick Wilsdon is anything to go by, that community is set to grow rapidly, so anyone supporting a freelance future gets our vote.
You can find out more about the community and the service costs on their website: www.moseleyexchange.com.
The Big Peg
Calling themselves the building for Brummy entrepreneurs, we wanted to include The Big Peg for their forward thinking as much as anything else. The only Birmingham offering so far on sharedesk.net, they are clearly embracing the gig economy, and at wonderful prices, too.
You can take a desk space at The Big Peg, nestled in the Jewellery Quarter. However, you can join in a more community-minded way. From £200 per month, you get access to your own space and all kinds of membership specials. Check out The Big Peg online for more info.
The Loft Workspace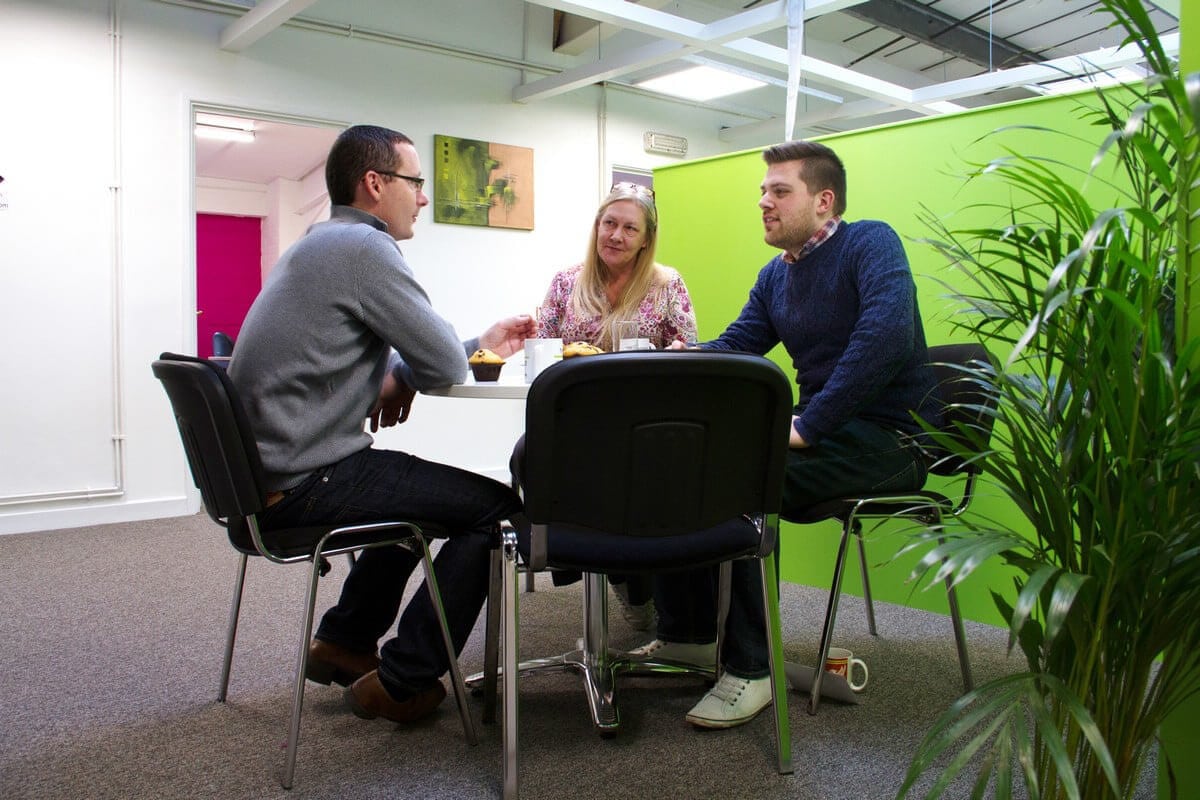 Supporting growing businesses and charities in the South Birmingham area, the Loft Workspace is based in Balsall Heath and adopts a similarly community-based approach to that seen at the Moseley Exchange. For as little as £10 per day, you get a place to work, on-tap advice from other entrepreneurs in the community, as well as access to a variety of networking events.
The cheapest plan is also a rolling contract, so if it's just a month of hot-desking in Birmingham that you're after, this may be the place for you. Check out the Loft Workspace website for more details.
i2 Office
Calling themselves 'tomorrow's office today', i2 are situated in a prime location at Brindley Place, and they are certainly one of the swankiest-looking hot-desking spots in Birmingham. Membership costs as little as £30 per month, and members get copying, scanning, mail services and drinks (presumably hot rather than alcoholic) all thrown in to the bargain.
One of the great plus points of i2 membership is that you also gain access to their offices in other cities around the country, so if you're a freelancer on the move and you happen to be in London, Aberdeen, Bristol, Edinburgh, Glasgow, Leeds, Manchester, Milton Keynes, Reading or Watford, then you know you have a guaranteed spot to park your bum/laptop.
For more information, take a look at the i2 Offices website, here.
Mac Birmingham
We're big fans of Mac (Midlands Art Centre) here at MAF – we were singing its praises only last month in our article on Birmingham's best coffee shops for freelancers. So we're delighted to be able to report that it's also one of Birmingham's best hot-desking options, offering a spot in their open plan office for as little as £15, with the usual photocopying and scanning services thrown in.
Of course, you could always head down to their cafe area, too, where you could reimburse them by buying lunch and a coffee. They're extremely welcoming, whichever way you choose to do it.
Boxxed
As a Digbeth event space, Boxxed is well known. As a business incubator, it ought to be better known, which is why we're including it on our list. Founder Danny Fisher is very keen to help early-stage business development, and as such he has opened his Boxxed up to anyone keen on co-working.
Offering "free-flowing tea and coffee", high speed wifi and all the usual bells and whistles, it's also in a great place if you're doing work with businesses at the Custard Factory complex, a mere five minutes walk away.
See also… 
If you're a new business, a freelancer or an independent contractor making the most of Birmingham's startup scene, get in touch with us at My Accountant Friend to find out how working with an online accountant mixes the latest in tax-efficient know-how with the latest in mobile technology. You can find out more via our contacts page.