Last month, as part of The Life Hub's 'Startup Stories' series, we took a look at the burgeoning Belfast tech scene. Not wanting to ramble too far through the alphabet, this month we've been to the Midlands to talk to the people running the Innovation Birmingham Campus.
With 40% of the population under 25 years of age, Birmingham is officially the youngest city in Europe, and with rents around 60% below those found in London, it's easy to see why it's an obvious destination for those caught up in the Shoreditch exodus. To find out more, we sat down with John Cooke, founder and director of Element-C, and Entrepreneur-in-Residence at Innovation Birmingham Limited.
Can you tell us a bit about Innovation Birmingham and the kind of businesses are you open to helping?
The Innovation Birmingham campus has over 120 digital technology businesses, ranging from brand new start-ups to tech businesses turning over millions with 20-30 staff. There are five incubators on campus – e4f focuses on general software and hardware based businesses, and we have just launched four new incubators with corporate partners.
Also on-site is Climate-KIC part of a pan-European network of clean tech accelerators, aimed at rapidly bringing technologies to market which will help reduce global warming. It's definitely an exciting time to be evolving business strategies and thinking about starting up in Birmingham.
How do you go about helping the businesses that come into the campus? What is the usual process?
Each of the accelerators and incubators has its own mentors, there to support the founders in writing business plans, developing MVPs (Minimum Viable Products) and introduce potential partners, clients and investors. The incubators are all about getting a new concept off the ground with first customers and seed investment, and the accelerators are all about rapidly growing a business once the technology is proven.
The incubators have regular visiting experts, delivering workshops on subjects from patenting technology to accounting to latest developer technologies, or one-to-one meetings with founders exploring their business plans.
With the Inspire programme, high-growth tech business leaders gain from executive workshops, peer group meetings, one-to-one coaching, entrepreneurs' dinners and keynote speaker events to support the leadership team with the challenges of sales, marketing, employing and managing people.
Is there a large freelancing or small business community in Birmingham?
Absolutely! On campus we have a number of freelancers and smaller businesses supporting the tech companies with everything from presentation skills and sales support to programming and design.
Birmingham is the youngest city in Europe with the highest percentage of under 25s. With five city centre universities and over 65,000 students, the BSeen Programme was set up to encourage students to think about starting their own businesses.
My experience of the city goes back to the '90s, when I remember great fanfare surrounding the opening of The Custard Factory. How has the entrepreneurial, creative scene grown since then?
The Custard Factory is still there and still going strong. It is home to Birmingham's creative quarter, housing everything from pop-up breakfast stop-offs to visual identity and brand managing experts. However, the Jewellery Quarter is going through its own renaissance, and is now home to a wide range of businesses and restaurants, bars and cafes.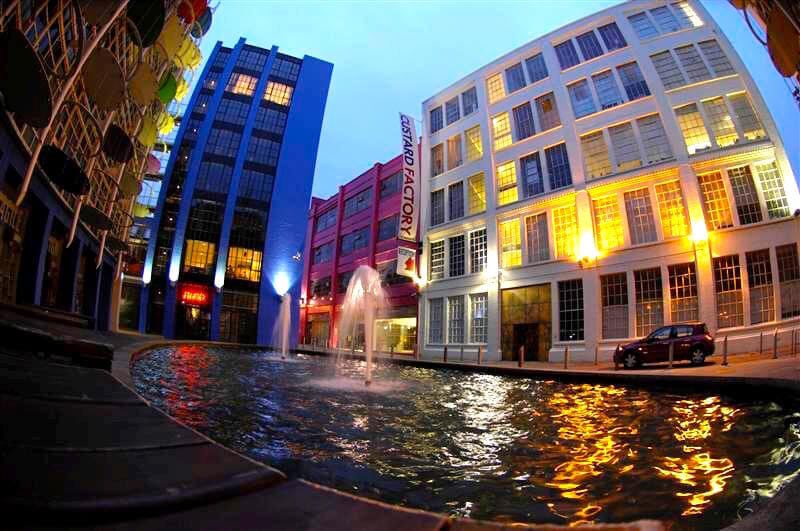 Birmingham boasts a wide range of small and independent shops, so it's a really vibrant place to be living, working and thinking about creating something new.
If I were looking to meet other likeminded freelancers, independent contractors or self-employed people in Birmingham, are there any hubs I could go to, or perhaps get-togethers or seminars?
As part of the the Innovation Birmingham set up, we have regular educational and networking events for anyone on campus, including Tech Wednesday on the third Wednesday of every month.
You'll also find tech-related workshops over at the wonderfully named Silicon Canal, as events at the Custard Factory and BSeen. New businesses are also advised to keep an eye on Venture Fest West Midlands, an annual event for businesses looking to raise finance and looking for talent.
What would you say Birmingham is strongest in, in terms of the industries that self-employed people are launching themselves into? It was known for its manufacturing industry, of course, so tech innovation seems like the logical next step.
It is. IBL is responding to the need for manufacturing-utilising technologies, such as 3D printing, with the Maker Wharf development – 2,400m2 of manufacturing incubator space being built from September, 2016.
Birmingham still has the heartland of traditional manufacturing and engineering, and there are a number of businesses supporting (the likes of Jaguar Land Rover and Caterpillar, for example). However, the tech and creative scene within the city is growing rapidly, and that suggests a very bright future for the city indeed.
Here on The Life Hub, we're always interested in how the tech side of things is working out. Are there any interesting online startups coming out of Birmingham that are worth taking note of? Any specific companies you think we should keep an eye on?
There are loads – how much time have you got?
Spica Tech are world leaders in using the 'Internet of Things' (IoT), creating miniature networked monitoring devices, capable of monitoring anything. Their first case studies were in supporting hotels, hospitals and large buildings with Legionella monitoring – reducing the risk of Legionella infection and saving energy by not having to run hot water systems at such high temperatures.
Petalite has developed the world's fastest charging portable battery technology, having raised investment through crowd-funding and a Hong Kong based investor, and the hugely successful Majestic has the world's largest link database, providing businesses around the globe with insights into online marketing and SEO.
Memrica is developing award-winning technology to support people with early stage dementia and memory issues, while Breaking Free is an award winning service using online technology to support those with addictions.
Last, but definitely not least, Daden are specialists in developing virtual worlds and virtual reality solutions. You can download this app for a free 3D tour of Innovation Birmingham's new iCentrum building using Daden's technology.
My Accountant Friend is proud to be working with Innovation Birmingham Ltd to help startups find their feet. For more information, feel free to hit us up via our contacts page.