Whether you're starting up as a freelancer or a small business, the question of office space is bound to crop up sooner rather than later.
While many single-person businesses operate a 'have laptop will trade' model, there are obvious benefits to working in an on-demand office set up – it solves the need for an official business address, you can bounce ideas off other people, you're plugged into an instant network, and – blub – you have somewhere to go when you're feeling lonely.
Hot-desking and collaborative spaces are on the increase across the country, and we intend to cover off other cities in the future. To begin the series, however, we've focused on London, where hot-desking is so common it almost seems fashionable.
Here are a few of our favourite hot-desking sites to try across the capital, just to get your started.
We caught up with Vivien at Headrooms just as she was about to serve lunch, which should give you some idea of how homely their setup can be (they offer a complimentary breakfast, too!).
Based in Clerkenwell, Vivien tells us that, 'our clients tend to be more of the creative type – designers and developers, freelancers who come together on projects to take over meeting rooms before pitching to clients, for presentations or just to brainstorm.'
While it's clearly a professional set up, there's a sense that Headrooms is more a community than a business; Vivien continues, 'at the heart of everything we do is collaboration.
We like to have a good mix of bodies in the building at any one time as, often, new friendships and business opportunities can be made.'
Headrooms works with Near Desk, allowing you to book a hot-desk in London for as little as £10 per hour, or £35 per day.
Bathtub 2 Boardroom has an interesting model, taking unused commercial buildings around London and turning them into spaces for entrepreneurs to work on their projects. As such, visiting the original building in the City is something of an eye-opener.
Just a few hundred metres from Bank Station, Bathtub feels slightly out of place, but in a good way. Surrounded by staid old financial institutions, the entrepreneurs here feel like young upstarts – a collective determined to bring about change.
Not that they're all combating the City with fintech, of course. Startups that have found their footing here are many and varied, representing new ideas from the publishing industry, the building industry, the entertainment industry and many more.
There's a real sense of community, too, and information and contacts are freely shared. If your experience is in product design but you have no idea about marketing, for example, someone here is bound to be able to hook you up.
Bathtub 2 Boardroom also has a property in East London. Full-time desk space is available for £200 per month, or you can take a part-time option starting at £50 per day.
Befitting its location, the Soho Collective offers a home-from-home to a creative bunch of people, ranging from journalists to PRs to designers.
It's as much a collaborative forum as a place to lay your business hat, with everyone working closely together and the organisers dousing everyone with wine from time to time.
In many ways, it feels like an elite club, albeit with very affordable prices. Location-wise, it's certainly hard to beat.
If you've wandered around warren-like Soho, you've probably come across it already – it's the large, arched window above Ed's Diner on Old Compton Street (if you need something to soak up the wine, the hot dogs downstairs ought to see you right).
For £410 per month, members get coffee, treats, their own key, locker space and a free membership to Zipcar – pretty good going, if you ask us, especially considering the superb location.
If you're doing it by the day, costs start from £35, minus the Zipcar, the locker space and the key. Contact them to find out more.
The Hot Desking Club operates four spots across London, offering facilities to self-employed people in Holborn, Kensington, Fitzrovia and Canary Wharf.
Their offering includes meeting rooms, hot desks, locker space and dedicated desks, meaning that most disciplines will feel welcome.
However, when we spoke to them they pointed out that most of their clients are in marketing or IT. 'Our offices are small and tend not to suit sales, finance or legal,' explained marketing man, T. O'Donnell, 'as these niches require either privacy or the ability to make constant noise.'
'Hotdesking suits freelancers who have enough income to warrant having a desk outside the home but no need for their own private office,' he continued.
One reason they want the 'office experience' is to get out of the house and mix with other people. Another reason is collaboration. You may have a need to work with others, and it's not comfortable to invite co-workers into your home.
Starbucks is too noisy and smelly, so people look for something a step up from that – cheap office space where you can work in peace with your colleagues.'
If that sounds like you, you can find out more about their membership levels here. Prices start from £14.50 per month.
Out in West London, you'll find Acton's Donut Factory, a social enterprise run by Action Acton.
Promising 'everything you need to run your enterprise and change the world', this handsome old building offers the usual hot-desking necessities, from meeting rooms down to free tea and coffee (if you're going to change the world, you'll need something to drink while you're at it).
Prices start from £20 per day. Take a look at their packages page for further info.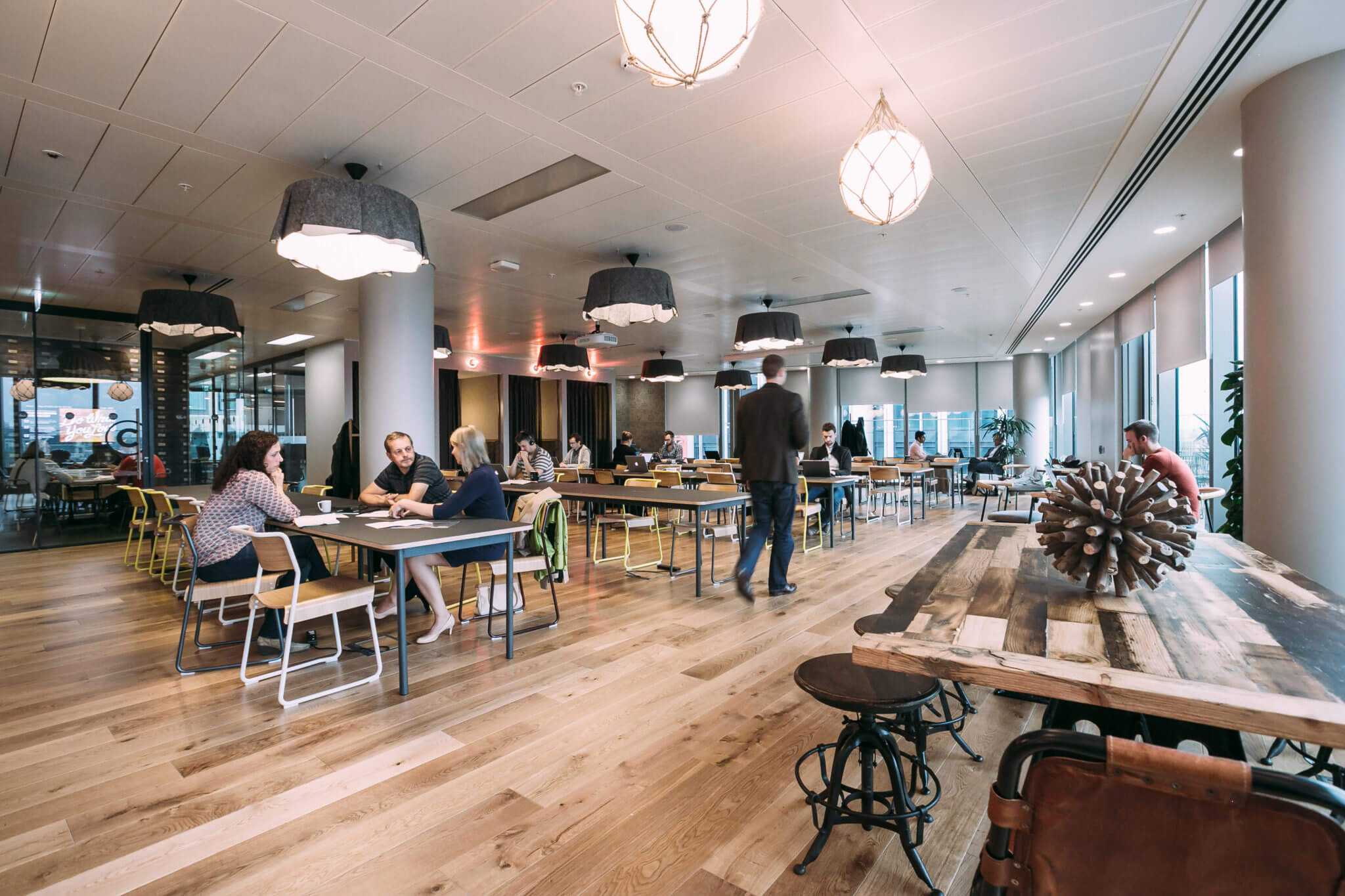 An international collective with locations in four countries (USA, UK, Israel and Netherlands), We Work offers artsy-looking, upmarket hot-desking options in four areas of London.
With its no-commitment setup, it's a great model for companies looking for support throughout their growth.
While freelancers and early-stage tech founders will find the breakout areas ideal for parking up with their laptops, We Work is unusual in that it can also cater to larger companies, accommodating up to 100 people for any period of time.
Their stylish venues can be found in Aldgate Tower, Devonshire Square, Moorgate, Soho, Southbank and Spitalfields. The 'Commons' package, which allows you access to hot-desking in cities around the globe, starts from $45 per month.
Launched with the express intention of helping bored people working from home, and freelancers overcome with distractions (isn't that all of us?), Rentadesk offers, 'a friendly, warm and open place… where you won't get distracted or interrupted.' For freelancers with children (and let us vouch for this), that sounds like a little piece of heaven.
For many members, Rentadesk's best selling point might be its location. Tucked away on Little Russell Street, next door to the Cartoon Museum and just a stone's throw from Tottenham Court Road tube station, this spot is about a central as you can get, something that makes their prices all the more special.
Hot-desking starts at £45 per month, for which they require zero deposit and allow you to cancel at any time. They also offer a pay-as-you-go option. How extraordinarily kind of them!
Or you could let these fine people help you…
Of course, this being the on-demand era, when everything can be clicked on, compared and dropped in an online basket, there are other ways to find yourself a spare desk, pronto.
Desk Camping allows companies with spare space the chance to list what they have available, so if you find yourself in need of a hot-desking spot for a month, you can pick and choose to your heart's content.
The benefit here, of course, is that you can make your selection according to your specialism. Want to work with like-minded seamstresses? Who doesn't! And there's a place to desk camp that was made for you ready and waiting.
Finding a spot for your new startup in Central London couldn't be easier.
Know a hot-desking spot that you think deserves a mention? Let us know in the comments below and we'll try to make amends just as soon as we can!